Meet Your Caring Tappan & Bergefield Pediatric Dentist
Jenn Sunkin, DDS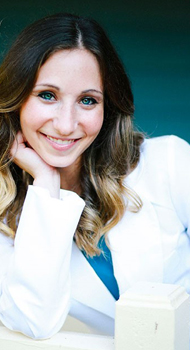 As a child, Dr. Sunkin was drawn to people's smiles and saw the difference a smile made in their self-esteem. This is what prompted her to choose dentistry as her career. She graduated from Tufts University School of Dental Medicine in Boston, MA, and completed her training at Helen Hayes Hospital in West Haverstraw, NY in the treatment of special needs patients.
Dr. Sunkin specializes in behavior management, calming even the most anxious of patients. With her patients' desires in mind, Dr. Sunkin creates treatment plans to best satisfy their functional and aesthetic needs in order to improve their overall oral health and create a beautiful smile.
Here are some of Dr. Sunkin's fun facts:
She does amazing animal sound impressions - make sure to ask her when you come in for your appointment.
She plays the flute and loves to sing.
She keeps active by playing tennis and golf AND she is a certified indoor cycling instructor!
She is a die-hard Jets and Yankees fan.
Lastly, she has two amazing fur-baby dogs named Lily and Fenway!