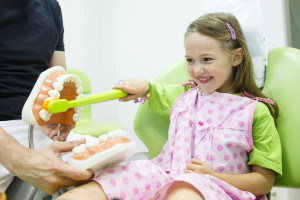 Why not have the best of both world at our office!
AS A PARENT, it's important to know the difference between pediatric dentistry and family dentistry. Lucky for you we offer both in one location.  Mom and Dad can be seen by our dentists who specialize in Moms and Dads, and the children can be seen by a dentist who specializes in kids!
Family dentistry provides services linked to the general maintenance of tooth health and oral hygiene. People typically use the terms "general dentistry" and "family dentistry" interchangeably, but there is a small difference. Some dentists actually limit their practices to specific age groups. They may focus on children, teenagers, or adults.
Family dentists commonly care for a wide range of patients, both young and old. Their job is to find any oral abnormalities and provide preventative dental care. The main responsibility of family dentists is to keep the accumulation of plaque around the teeth to a minimum. They also help to eliminate cavities and prevent gum disease by making sure the gums are in good health.
The Perks Of A Kids' Dentist
A pediatric dentist, on the other hand, is dedicated to the dental health of younger dental patients, from when baby teeth start developing (around six months) to the teenage years. Children's dentists have an additional 2 years of specialized training in Pediatric Dentistry, giving them the experience and qualifications to work with a child's mouth, gums, and teeth from infancy to high school.
Pediatric dentistry focuses on oral decay and dental diseases that develop in both baby teeth and permanent teeth because of improper oral health care. By the age of six or seven, children begin to lose their first set of teeth to make room for their permanent teeth. A pediatric dentist is well versed in providing the proper treatments to prevent tooth decay and the pain and complications it causes.
Childhood tooth decay can be viewed as an infectious disease. This makes visiting a pediatric dentist such as our office that much more important.
When To Start
A child should see a kids' dentist by their first birthday. This visit will establish a dental home for your child. Early examination, as well as preventative dental care, is important because it protects your child's smile now and for a lifetime. Dental problems can begin early, so scheduling an appointment with Smile More Kidz immediately is crucial.
To schedule an appointment with our practice, click here!