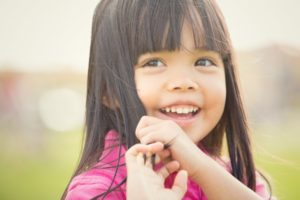 As a parent, you're excited about every milestone that your young child reaches, whether it's the first steps, words or bites of "table food." You cherish these moments and file them into the vast memory bank of fond events, but your pediatric dentist in Bergenfield says these moments are also reminders for certain changes that need to occur to accommodate your child's development. One new habit that needs to be introduced is that of visiting your children's dentist to begin monitoring the health of your young one. Learn when is the right time for your child's first visit and what to expect as you continue reading.
When Should Your Child Visit the Dentist?
Your child's first dental visit should be around the age of one, when she or he begins to eat solid food and the first teeth begin to erupt. The purposes of these early visits are as follows:
To check your child's developing dental structures and ensure that they are progressing like they should
To assess jaw function and the development of facial structures
To ensure that there is no harmful bacteria growth
What to Expect at the First Appointment
Unlike traditional checkups for older children, teenagers and adults, the initial appointment for your child will only take a few minutes and allows him or her to be introduced to the concept of visiting the dentist. This is an important step to take given that children long for routine and can become stressed when there are changes in their normal activities, so by introducing them to a pediatric dentist early in life you are allowing them to become comfortable with the process of maintaining regular visits for cleanings and checkups – that will be vital to their overall health for years to come.
As an added layer of comfort, you will be able to hold your young one in your lap throughout the procedure so that he or she will feel safe and protected.
By bringing your child in to visit your kid's dentist in Bergenfield, you are also taking advantage of the window of brain development that is open between the ages of 0 to 7, where a child's mind is the most impressionable, which further solidifies your efforts to teach the value of excellent oral care. To take advantage of this opportunity today, just reach out to your local dentist to schedule your first appointment.
About the Author
Earning his Doctor of Dental Surgery degree from Columbia University School of Dental and Oral Surgery, Dr. Darren Tong completed advanced specialty training in Pediatric Dentistry at the prestigious Sneiders Children's Hospital in Long Island, NY. A licensed pediatric specialist, Dr. Tong practices at Smile More Kidz and can be reached for more information through his website.