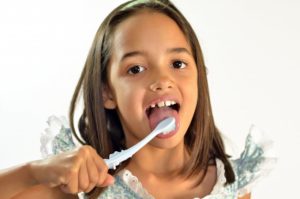 There are few things worse than finding out your child has cavities, even after you helped them develop a good brushing technique. Perhaps you found out they weren't brushing as much as they should be because they didn't like the toothpaste you purchased for them. Regardless of how they developed the cavities, your only concern now is preventing any more from appearing.
According to your pediatric dentist in Bergenfield, finding the best toothpaste only requires two important steps. Keep reading to find out what they are.
Finding a Toothpaste That's Fluoridated
To ensure your child is protected from cavities in the future, the first step you should take is confirming that their current toothpaste is fluoridated. Check the back of the bottle and look for the active ingredients list. If it doesn't list fluoride as an active ingredient, then your child has been using a cosmetic toothpaste, not one designed to prevent cavities and gum disease.
For additional confidence, purchase a toothpaste that holds the ADA's Seal of Acceptance. This shows that the manufacturer took the extra effort to prove the efficacy and safety of the product.
When your child is brushing, make sure that they are brushing for at least two minutes, as recommended by the ADA. Also, make sure they are reaching all the areas of their mouth as this is a common cause for cavities, especially in the molars.
Choosing a Toothpaste They'll Want to Use
It's important that you find out if your child doesn't like the toothpaste you bought for them. Even though you think a spearmint or peppermint flavor tastes fine, it could be what made brushing so difficult for your child. Instead, try looking for a flavor that's more kid-friendly. These include:
Bubblegum/Bubblemint
Berry
Watermelon
Strawberry
Banana
Apple
It's also worth it to find out if their favorite cartoon character or superhero has their own toothpaste. Using a toothpaste with their favorite fictional character is great incentive for them to brush every day!
How Flossing and Dental Visits Make a Difference
Keep in mind there are other steps you'll need to take besides buying a quality toothpaste to prevent cavities and gum disease. One of these steps is flossing daily. Up until about age 8 you should be flossing your child's teeth for them, unless they prove they can do it on their own. This habit is difficult to learn at first but makes a big difference in preventing cavities later.
You should also be taking them to their children's dentist in Bergenfield every six months. There, your dentist will check their mouth for cavities, gum disease, and confirm if they need to improve their brushing habits. They may also recommend fluoride treatments and dental sealants to keep your child better protected against dental disease.
Want more tips on picking the best toothpaste for your child? Schedule an appointment with your dentist today to learn more!
About the Author
Dr. Darren Tong earned his DDS degree from the Columbia University School of Dental & Oral Surgery. Afterwards, he earned his pediatric specialty license so he could offer children safe and effective oral health care. To learn more about your pediatric dentist in Bergenfield, contact him at (201) 384-2425 or visit his website.