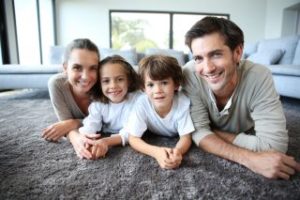 Did you know that 50% of all dental injuries to kids under age 7 occur at home from falling off or bumping into furniture? While that's a sobering statistic, the good news is that you have control over your home environment and can make changes to prevent these injuries. In fact, it's probably simpler than you imagine – not to mention that prevention is far easier than bringing your child to a pediatric dentist in Bergenfield for major dental work! Keep reading to learn about some steps you can take to keep your home safe and reduce the chance of both dental and general injuries to your child.
In the Kitchen and Bathroom
The kitchen is often the gathering spot for the whole family. Here's how you can keep it safe for your child:
Keep appliances such as toaster ovens, crockpots and blenders pushed back from the edge of the counter and well out of reach to prevent children from pulling one of these appliances down on top of them. Similarly, make sure handles from pots and pans on the stove aren't within reach either.
Install safety-latches on cabinet doors to keep household cleaning supplies away from children.
Most children love bath time and feel a sense of accomplishment after they're potty-trained. Here are some ways to prevent injuries in the bathroom:
Install toilet locks to prevent them from falling into the toilet or being injured from the toilet lid.
Install anti-scalding devices on faucets and showerheads and preset the water heater to 120 degrees. It only takes 3 seconds for a child to get severely burned when the water is hotter than that.
Around the House
Here are some good general steps to take around the house:
Put corner and edge bumpers on furniture to protect children from injury if they should take a tumble.
Use safety gates and doorknob covers to prevent access to potentially hazardous areas like the swimming pool or staircases.
Remove free-falling lids from toy chests.
Secure top-heavy furniture like bookcases to the walls to prevent them from tipping over.
How Else Can You Prevent Dental Emergencies?
Now that you have some general information about injury-prevention, here are a few ways to specifically avoid dental emergencies and make sure your child's smile stays healthy.
Schedule regular visits with a pediatric dentist to make sure that any small problems are caught as early as possible.
Also, minimize sugars by choosing water or milk instead of juice or soda. Finally, establish good hygiene habits early by brushing their teeth twice a day and flossing any teeth that touch (which is oftentimes only the back teeth in small children).
Childhood is a time of play, learning and fun. With these tips, you can prevent dental emergencies and make sure it stays that way!
About the Author
Dr. Darren Tong is an award-winning children's dentist in Bergenfield and a father of five. He knows that preventing injuries is far easier than treating them and always strives to help parents take steps at home to keep their little ones safe. If you have children and would like more information about how to prevent accidents, he can be reached via his website or at (845) 859-6060.