Darren Tong is joining with DNA Films®, an Emmy® Award-winning film production studio, to serve as an Executive Producer on the new Folds Of Honor documentary.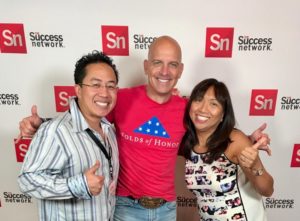 Since 2017, Major Rooney, an F-16 Fighter Pilot in the Oklahoma Air National Guard, has provided educational scholarships to spouses and children of America's fallen and disabled service men and women, and is committed to spending his life changing the futures of those spouses and children through those scholarships. Five-time Emmy Award winning Director Nick Nanton will direct this documentary about the incredible story behind the organization, Folds Of Honor.
As an Executive Producer, Darren Tong will attend the principal filming of the documentary, and be apart of this life changing experience while learning the incredible story behind the organization. The Folds Of Honor documentary will begin principal photography on location in February of 2019.
More About Darren Tong:
For over 27 years, Dr. Tong has been one of the most trusted pediatric dentist in the Bergen and Rockland County. Dr. Tong has also co-authored a bestselling book, "Dare to Succeed" alongside Jack Canfield. He has appeared on "America's Premiere Experts" on dentistry aired on TV stations NBC, CBS and their affiliates.
The mission of Folds of honor holds a special place in his heart since his father is also a United States Veteran. Dr. Tong is married with 5 children, ranging from 24 to 11 years old, so he is very familiar with the struggles and rewards parents go through in raising children and providing them an education.
To learn more about Dr. Tong and his office, please visit www.SmileMoreKidz.com or visit one of their two locations:
19 Legion Drive Bergenfield, NJ 07675 201-384-2425
140 Oak Tree Road Tappan, NY 10983 845-359-1763

About DNA Films®:
DNA Films® is led by five-time Emmy® Award Winning Director and Producer, Nick Nanton and Emmy® Award Winning Producer, JW Dicks. Dicks and Nanton have produced multiple award winning films including Visioneer: The Peter Diamandis Story, Esperanza, Mi Casa Hogar and Jacob's Turn. Their productions have won multiple Emmys and together they have been awarded more than a dozen Telly Awards for excellence in television and film production. Combined, they have produced and directed more than 500 television episodes and dozens of films.
Dicks and Nanton's goal is to bring amazing stories to the big screen as a means of encouraging and inspiring a new generation.
###
Media contacts: Christine Enberg
Dicks + Nanton Celebrity Branding Agency Christine@DNAgency.commailto:Kasey@DNAgency.com 800-980-1626