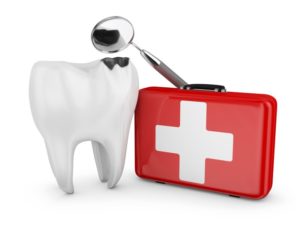 If you have a child, you know better than anyone that accidents happen. You can't predict when they will, but there are always a few things you can do to be prepared for when they strike. Dental emergencies are no exception. That's why your children's dentist in Tappan has written this guide on what to pack in a dental emergency kit should your child ever have a dental emergency.
Cotton Balls/ Gauze
If your child ever starts bleeding from their mouth, you'll need something to stop the blood flow. Have them bite down gently on gauze or cotton balls to slow down the bleeding.
Medical Gloves
You never want to touch your child's mouth with a dirty hand. That could spread germs that may lead to infection. Instead, pack some one-size-fits-all medical gloves that will allow you to examine your child's mouth if necessary. You'll also need them to handle any knocked-out pieces of a tooth in an emergency.
Dental Mirror
Speaking of examining your kid's mouth, there are a lot of thing that are pretty hard to see with the naked eye, such as several angles in the mouth. That's why you should invest in a dental mirror that will allow you to take a closer look at your little one's pearly whites should the need arise.
Dental Floss
Sometimes a toothache is the result of an object, like a piece of food, being caught in between the teeth. The object can occasionally be removed by rinsing with warm water, but if that doesn't work, then try using dental floss to dislodge it.
Orabase
Orabase is a paste that works as a local anesthetic when applied to ulcers, sores, or other areas of pain in the mouth. It's not recommended for children under the age of two, and can be dangerous when applied more than as directed on the package. However, in case of a severe toothache or mouth pain, keep some in your emergency kit.
Pain Relievers
Other kinds of pain relievers can include an ice pack, ibuprofen, and Orajel. In general, you shouldn't use aspirin, as it can be unsafe for children. Moreover, never place aspirin directly on the problem area, as it can seriously irritate the gum tissue and make the problem worse.
You can't always predict when a dental emergency will occur, but you can follow these steps in packing an emergency kit. It could mean the difference between losing and saving your kid's tooth!
About the Author
Dr. Darren Tong is a pediatric dentist in Tappan who earned his dental degree from the Columbia University School of Dental & Oral Surgery. He has been voted the favorite New York and New Jersey kid's dentist many times over. If your child is experiencing a dental emergency, you can contact Dr. Tong's practice, Smile More Kidz, by clicking here.