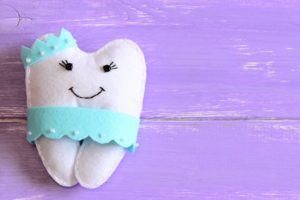 If your parents played tooth fairy for you as a child, it's time to thank them! Being a tooth fairy seems like an easy job, but as any parent worth their stuff will tell you, nothing could be farther from the truth. You have to make the lore sound fun yet not creepy and be sneaky enough to not wake your child up during the night. However, the tooth fairy is a great opportunity to talk to your son or daughter about how to take care of their pearly whites. They think the story is all about just having fun, but as your pediatric dentist in Tappan will tell you, the great tooth fairies will sneak in some lessons on oral health.
Tales from the Tooth Fairy
Most dentists will tell you that that talking to parents about their tooth fairy fails is one of the best parts of their job. Parents and dentists alike revel in sharing tooth fairy mishaps they have made with their children over the years. While being a tooth fairy certainly isn't easy, if you maintain your sense of humor throughout the experience, it can definitely be fun.
Some of the funniest tooth fairy mistakes your pediatric dentist in Tappan has heard over the years include:
I told my daughter the tooth fairy was at a bar mitzvah that night and couldn't get to her.
I told my kids the tooth fairy only works every other night.
The tooth fairy was so shocked by my son's messy room that she left without giving him money.
The tooth fairy doesn't work when it's raining.
Tips to Improve Your Tooth Fairy Game
If you're new to being a tooth fairy, keep these tips in mind to up your game:
Set a reminder on your phone after your child has gone to bed so that you don't forget to pay a visit.
Prepare your fibs ahead of time in case you get caught. For example, if your child wakes up and sees you in their room, just say you were trying to catch the tooth fairy in the act. If they see you with your hand underneath the pillow, claim that you were making sure the tooth fairy actually came.
When it comes to choosing how much money to place under your child's pillow, the amount should be decided based on your child's personality. You want to find the perfect balance between making losing teeth seem like a fun event while not giving them so much that they'll pull out their teeth before they're ready!
About the Author
Dr. Darren Tong earned his doctorate in dentistry from the Columbia University School of Dental and Oral Surgery, graduating in the top 10% of his class. He has been voted one of the most trusted pediatric dentists among New York and New Jersey kids several times over. He currently practices at Smile More Kidz in Tappan, NY. To talk to him about your tooth fairy experiences, visit his website here.